The annual Early Career Award recognises the achievements of an outstanding early career scientist in their contribution to the imaging community.
This contribution may be through an impressive application of imaging to research, development of imaging or image analysis tools, an inspiring public engagement initiative, or a demonstration of exceptional support to other imaging scientists. We are not currently accepting applications for this award.
How to submit a nomination:
Applicants are required to submit an Applicant Statement which describes the following (max. 300 words):

The merits of the Applicant
A brief summary of the Applicant's research, accompanied by no more than one figure
A statement of the Applicant's suitability for the award

Applicants are also required to submit a Letter of Support from their Line Manager/Supervisor.
Eligibility:
Any person undertaking work in the field of microscopy/flow cytometry and belonging to one of the following categories is eligible for this award*:
Current undergraduate/postgraduate/Masters/PhD students; or
Within 8 years of starting work or studies in a microscopy-related field (excluding career gaps)
Applicants must be based within the UK/EU.
*entries from applicants outside the above criteria will be considered on a case-by-case basis by the Early Career Committee.
Judging criteria:
Impact of the research/contribution
How many people does this contribution impact; will it have ongoing impact; what is the form of impact (inspiring, empowering, enabling, life-changing)?
Complexity of the research/contribution
The level of difficulty of the research/barriers to the contribution within the context of career stage.
Novelty of the research/contribution
The uniqueness of the research/contribution, extent to which it builds on existing practises/research, the originality of thinking.
Presentation skill
Clarity, content, engagement and creative use of the time and visuals.
---
2023 Winner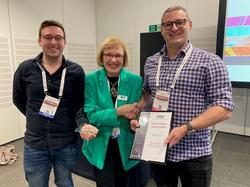 Alex Johnson, Medical University of Vienna
Alex was awarded the RMS Early Career Award for his work developing a range of quantitative light and electron microscopy approaches to investigate the molecular mechanisms of endocytosis in plants.
He started working with plants during his 1st post doc in the labs of Dr. Gregory Vert and Dr. Christien Merrifield (Centre National de la Recherche Scientifique, France). At this time, how endocytosis functioned in plants was poorly characterized. This is because plants present many technical challenges to image dynamic sub-cellular processes, like endocytosis, at appropriate resolutions. However, during this placement, Alex and his colleagues established a reliable method to apply total internal reflective fluorescence microscopy (TIRF-M) with automated unbiased analysis to quantify live single events of endocytosis in intact plants. Building on this experience, he then joined the group of Prof. Jiri Friml (Institute of Science and Technology Austria, Austria) where he optimized the use of structured illumination microscopy (SIM) to further improve their ability to resolve the dynamic interplay of proteins at endocytic events. Furthermore, here he also developed the use of metal replicas of unroofed plant cells with scanning electron microscopy (SEM) and scanning transmission electron microscopy (STEM) tomography to directly visualize plant endocytosis events in 3D for the first time. Using these quantitative imaging tools, Alex has significantly updated the working model of plant endocytosis and uncovered that it is evolutionarily unique from other eukaryotic model systems. In addition, Alex has released details of the the full protocols, analysis codes and example data for these microscopy and analysis techniques as open access resources to aid the progression of plant endocytic investigation.
He is currently a post doc in the lab of Dr. Kareem Elsayad (Medical University of Vienna, Austria), where he is developing novel optical microscopy and spectroscopy techniques to elucidate microscopic scale mechanical, structural, and dynamic properties of biological samples.
---
2022 Winner
Katherine Paine, University of York
Katherine, who began her PhD in 2018 at Chris MacDonald's laboratory, was chosen in recognition of the novel approaches in imaging and cytometry she has brought to her studies on the regulation of cell surface membrane proteins.
Cell surface membrane proteins perform diverse and critical functions and are spatially and temporally regulated by membrane trafficking pathways. These trafficking pathways are evolutionary conserved from yeast to humans. MacDonald lab uses yeast as a model organism to study these pathways.

It became clear from Katherine's initial studies that although standard confocal microscopy could be used to visualise some of the processes she was interested in, there were also limitations. She then helped optimise a suite of imaging and cytometry approaches to study surface proteins. This includes Airyscan2, structured illumination (SIM) and photoactivated localisation microscopy (PALM); all of which can be coupled to bespoke microfluidic exchange systems.

Katherine is also in the process of optimising a high throughput method to measure Förster resonance energy transfer (FRET) in yeast using robotics and flow cytometry.
---
2021 Winner